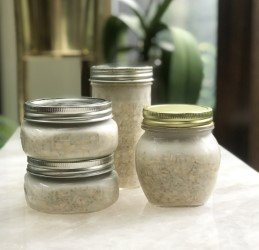 Overnight Oats with Quinoa, Apples'n Cinnamon
These portable jars contain everything you need to start your day off right! First, there's your oats (soluble fiber, lowers cholesterol, scrubs your colon, calcium, iron), quinoa (protein, fiber, amino acids), and chia (omega3s, protein, calcium, iron). This is a great replacement for your typical fattening breakfast and it's easy to make and take with you in the a.m. rush!
Ingredients
1/2

C

organic rolled oats

3

T

cooked quinoa

1

T

chia seeds

1

C

nut milk

1

dash

vanilla

2

dashes

cinnamon

drizzle

honey (optional)

2-3

T

chopped apples
Instructions
In a single serve jar, stir up all ingredients except apples very well. Add apples on top (can add an extra dash of cinnamon), close lid, shake well and leave in fridge overnight. Done!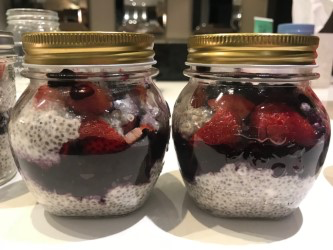 Luscious Vanilla Chia Pudding with Berry Compote
There's so many recipes out there for Chia Pudding, but I think mine is the best. Why? Because it's easy, rich and creamy, and tastes like you're eating dessert. The chia seed is nutrient-dense, so it's a perfect breakfast food. Gluten-free, dairy-free, chock-full of vitamins, minerals, fiber, omega-3s, protein, calcium and iron....you know you're starting your day off right!
Ingredients
2

C

nut milk

I use 1 can organic coconut milk and the rest is almond milk

2

T

pure maple syrup

2

T

vanilla extract

pinch

salt

1/2

C

chia seeds

2

C

organic frozen blueberries

1

C

fresh strawberries
Instructions
In a bowl, mix up first four ingredients very well. Add in chia seeds and whisk well. Cover and refrigerate. Should be set in a few hours, or better yet, overnight.

For fruit compote: Simmer frozen blueberries on stove until bubbly. You can add a bit of maple syrup if you like but the chia pudding is so rich and sweet enough, you really don't need to.

Layer chia pudding with blueberry compote and fresh strawberries, alternating until you fill the cup.
Sweet Potato Boats
The benefits of sweet potatoes are endless! Having them for your breakfast sets you up to feel full due to the complex carbs and all those B vitamins will keep you feeling happy and focused. The coconut yogurt will give you a healthy dose of probiotics, the chia seeds will give you your omega-3s, granola for crunch and fiber, and goji berries are tasty little superfoods bursting with minerals!
Ingredients
1

Baked sweet potato

Coconut yogurt

Gluten-free granola

chia seeds

goji berries
Instructions
Split baked sweet potato in half lengthwise, spread some coconut yogurt on top and sprinkle with the rest of the ingredients. That's it!